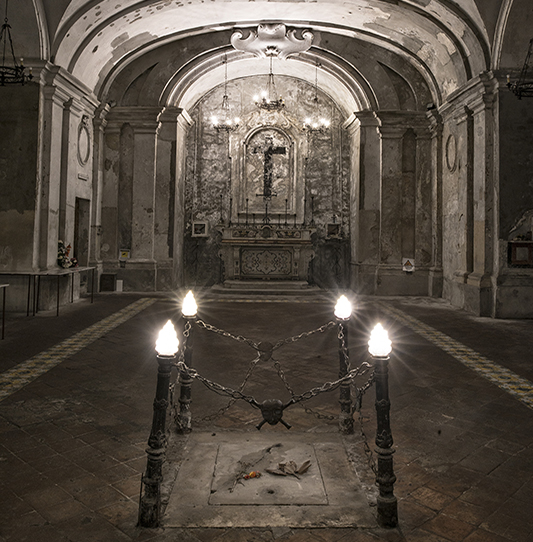 The Underground Church
Through an opening in the floor of the upper church, descending a steep staircase, it is possible to reach a wide space, a real lower church, one of the most well known places in Naples where, still today, is alive the ritual of the worshipping of the poor souls.
In the center of the church is located an anonymous tomb, surrounded by black chains and barely enlightened by electric lights. Along the walls small niches, altars and candles witness the old ritual that raised spontaneously in the 1600s.
Through a small corridor it is possible to reach the burial ground of the church werethe remains of Lucia, the young soul particularly loved by Neapolitan people, are preserved in a sophisticated and fascinating altar.
The dimensions of the lower church are impressive and the choice to deliberately contrast the decorative richness of the upper church with the austerity of the lower space is clear.
As it has been proven by archive documents, the idea of including an underground church was conceived already in the first project of construction of the church.
In fact, since the 1600s workshops and storage rooms located in the area were bought in order to have enough space for a burial ground for the members of the Congregation and for poor people.
The Lower church has one aisle and a series of side chapels; in the 1700s it was enlarged and covered by a rich decoration made of majolica tiles painted with skulls, bones and flowers, made by the artisan Giuseppe Barberio.